Exciting News at Samtos Samoyeds!
A breeder would always say that the nursery is a very special place. It represents everything a breeder is and has. This is the place where dreams, expectations, and excitement all converge. It is where the passion, hours of hard work, and dedication to a breed or a lineage come together to create the next generation of great dogs. For us, breeding is all about passion for the breed.
We carefully work on each and every litter, trying to find the best pedigree possible based upon extensive research into what we feel are the strongest producers in the breed throughout history. We carefully blend the pedigrees of these exceptional dogs. Our main goal is to breed healthy dogs that come close to the Samoyed standard. Many hours are invested in creating each litter and the same care is applied when choosing homes for them. We always keep our pick of litter and for those we are not able to keep, we make sure they will find perfect permanent homes.
Please see below for our current litter.
Dam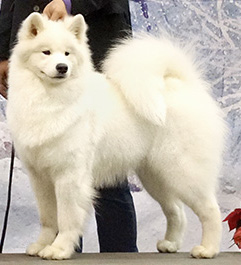 Am & Can Champion 
Samtos's Sacred Haven (Haven)
Sire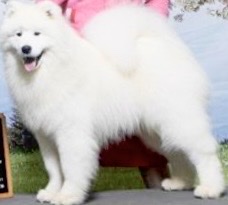 AM GCH, UKC, Intl. Natl. Hon. Champion Kolinka's Heart Breaker (Breaker)
3 Months old (born Mar11th) Premium Male available to the right home. Email us if you are potentially interested in the stunning male.
UPDATED JUN 2022 -
We are extremely appreciative of the enormous demand for one of our lovely Samtos Puppy. But although the interest for one of our puppies is overwhelming we can only taking reservation for FALL 2022. I have received numerous emails from families interested in one of Samtos puppies. If you have submitted a questionnaire please be patient as I am trying to get to it as soon as I can. So unless you are looking for a puppy for FALL 2022 please do not submit a questionnaire.
There has been a considerable increase in the numbers of requests and questionnaires received lately. It is understandable giving the unprecedented times in which we are living, that people would have more time available to spend with a companion dog. We are still committed to producing only a few selective litters throughout the year. We are diligently going through the emails received lately and trying to address them all. Please be patient if you have not yet heard back. Please be mindful that all of our reservations have been up to EARLY SUMMER 2022. Please contact us only if you are inquiring after our FALL 2022 litter. Thank you for your interest in Samtos Samoyed puppies.
Our girl, Haven (Am & Can Champion Samtos's Sacred Haven), has been bred to the handsome boy, Breaker (AM GrCH, UKC CH, Intl. Natl. Hon. Champion Kolinka's Heart Breaker). This is a stunning combination and as usual we are expecting outstanding puppies. Breaker is a breath-taking male Samoyed, bred and owned by Nancy Gray of Kolinka's Samoyeds. He has won many Best of Breed/ Group and BIS in the US all owner handled by her. His head, movement, and body outline are exceptional. Haven is from our girl Portia (Ch. Hawkwind's Venetian Agate Portia) and ou boy DJ (BISS Am. Cad Champion Kolinka's Majestic DJ). She is undeniably a spectacular representation of a female samoyed, carrying that great movement and temperament. She has also proven to be a great producer .
Puppies are expected July 9th 2021. Reservations are FILLED. Please do not hesitate to contact us for further info on future Samoyed Puppy litters.
If you would like to become a new forever home to one of our stunning Samoyed Puppies, please complete and submit a questionnaire.
Click here for the questionnaire.