2.5 Years Old Female Samoyed. We have a lovely girl who is retiring from our breeding program available to the right home. She has her CHIC number which means she has passed all her health checks with OFA. Ideally you would be a home with previous dog experience and/or already have a dog and is looking for a second companion. Please email us for further info.
We are pleased to contribute to and carry forward this beautiful breed.
For more than 15 years, we have been sharing our love for this special breed by providing guidance and education to new families. Learn more about us and our growing canine family on our website.
Welcome to Samtos Samoyeds. We are a Samoyed breeder in Ontario Canada in a house nestled on the edge of a Ravine, just 30 minutes from Toronto, Ontario. We are a small home raise Samoyed Breeder. We are also members of the Samoyed Association of Canada, Samoyed Club of America, Canadian Kennel Club and Breeder of Merit with the AKC.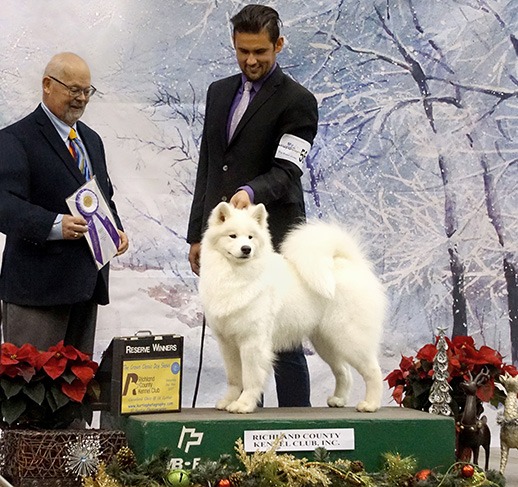 We don't believe that dogs should be raised in a kennel environment. With that in mind we have developed Our breeding program which allows us to access the dog for show, and eventually, breeding. We believe in the idea that they should be spoiled and loved by their family, but they could also be groomed, and have the opportunity to be presented at a dog show. For those whom would like to take a chance into the dog world we always encourages the families of our Samoyeds to participate in a dog show whenever they can. It is a great opportunity to meet other dog and have a glance of the fascinating Dog world
Our love of dogs, specifically the Samoyed breed, began more than 20 years ago when we adopted Trixie. She was a stray Samoyed from Toronto's Humane Society, who had all the hallmarks of this beautiful breed. Trixie has a gentle and happy temperament, unwavering devotion to her owner, and of course, that famously bright Samoyed smile.
Since then, our family of fur babies has grown. Our faithful companions currently consist of our first Samoyed, Bailey, and our two champions, Haven and Portia, with all of them always giving us immense joy. Along the way, we have added more dogs to our list. These Samoyeds either live with us or in the lovely homes that are part of our Samoyed Breeding Program.
It is all about our passion for the breed
I have had an amazing journey within the Samoyed Dog Show world, showing has always been what I enjoy the most. Breeding is somewhat a progression from showing dogs. I have a full time job which takes a lot of my time, therefore,I only breed occasionally. I have had the joy to participated in many competitions here in Ontario, all around Canada and abroad. 
In this journey I have met incredible people who I am blessed to call them friends and mentors. People who had add so much more depth to my knowledge in this breed. They absolutely have strengthened my understanding of the breed. We also are able to share our gene pool which provide us the opportunity to keep breeding these majestic and beautiful dogs. Always thrive to achieve that "perfect" Samoyed.